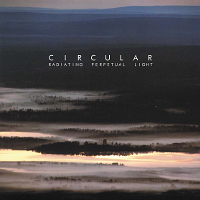 CIRCULAR
Radiating Perpetual Light CD/T-SHIRT BOX    order @ deep-audio
Radiating Perpetual Light CD    order @ deep-audio
LOKI 59
The evolving, dense nature of Circular's sound world is unfolding again with this new work – the first since 2009. Pulsating and deep, reverberant drones, slowly moving guitar lines and rhythms, combined with ambient layers of rich tonal colours were created with an extensive set of analogue and acoustic devices. With his third album Johannes Riedel has entered a region of higher density that produces deeper echoes of sombre oscillation. Radiating Perpetual Light emerges from the desire to sculpt an organic, meditative and deeply ambient environment of mysterious and shapeshifting soundscapes. This is the perfect soundtrack for a dark and glowing sunset.
Available as limited box edition with t-shirt (100 numbered copies) and as regular CD.
Tracklist 1. Dissolving 2. Retreat From Reality 3. Beneath The Luminous Sky 4. Deep Time Illusions 5. From A Concealed Awareness 6. A Retrograde Dream 7. In A Distinctive State 8. All Colours Of Space 9. The Gods Await
Review (Brutal Resonance)
I am sure that each of us has his special hideaway somewhere in the world, because sometimes it is extremely necessary to escape from the everyday crazy life, all the problems around and stressful environment. Few times in a year we start to pack our luggage, take a lot of material and mortal stuff on our trip without thinking about the proper sensual support which is much more important when we are on a chase after serenity. Johannes Riedel from the Leipzig based project Circular invites his listeners for a journey through his hideaways and offers a real emotional soundtrack, landing 'Radiating Perpetual Light' just right before summer vacations to receive a top line in a bucket list of important things to take on the way to the places of rest and peace.
Three years after his last album 'Cycles of Remembrance', this German artist shows the highest level of emotional musical experience once again to meet the top standards of Loki Foundation label. Just push a play button on your CD-player the same second when you throw away the burden of problems and concentrate your attention only on the spirituality of the moment.
The record starts with "Dissolving", a very atmospheric and light track, where the relaxation washes senses with the waves of soft electronics combined with a dreamy melody and different echoed special effects which implement a lot of width to the music. The second composition "Retreat from Reality" continues the same dreamy flow but turns it to be a little bit spacer, while the synthetic side of music is supported also by a distant lead guitar riffs. From this point a slight electronic pulsating rhythm joins the structure to give a more energetic drive to the whole picture. With the next one, "Beneath the Luminous Sky", melancholy spreads forth its wings and conquers the soil of the two upcoming tracks with its gentle touch of sadness and solitude. The synthetic beat continues the middle-tempo rhythm of the tracks that are aligned with a solid theme of escape from reality towards the exploration of senses and emotions.
"From a Concealed Awareness" switches the mood into more mysterious, even ritualistic channel, with more creepy electronics and drumming rhythm, but keeping the main accent on melancholy and deep hypnotism. The music softly evolves into "A Retrograde Dream", which appears to be the slowest composition of the whole album that sets a kind of transition between the tensions and guiding lines of the album covered by its meditative origin.
With "In a Distinctive State" and until the end of the album, the music returns to be airy and soft, carrying a lot of warmth in its colors when the soundscape is driven by outer space pulsations and wide background melody.
It is very pleasant to watch, that the beauty of the natural world still inspires somebody to create such a sensual and touching experience. Without a doubt, Johannes succeeds in building a massive ambiance to fill my room with a dreamy and meditative atmosphere. Furthermore, it is really nice to see the development and evolution of ambient music. It constantly seeks to break the boundaries, to show that there are no limits for human imagination and talent, to capture the true images of the beauty that passes by unnoticed while we often find ourselves in a chase after "consumer heaven" and forget about the existence of a huge world around. But enough, no more words needed. The new album of Circular is there around, so go and grab your copy instead of wasting money on all the perishable and dubious so called "valuables".
Review (Vital Weekly)
A follow up to his album 'Cycles Of Remembrance' (see Vital Weekly 757), here is a new album by Johannes Riedel. Quite some time between the two (and his third so far), but not with a radical change of tone, which one maybe think was impending. But then some people aren't that much interested in changing their music, or strive for constant renewal of their sounds, and, while I am not certain about Riedel's position in this, in some musical directions it's not necessary to change. Power electronics – reviewed elsewhere – is one such musical direction, ambient music is most surely another. It seems to be following certain 'rules', set ideas and notions about what this kind of music is about and how it is to be made. Circular has checked all those notions: deep synths, arpeggio's, small melodic lines beneath the surface, the rattling of sampled percussion derived from field recordings. It's all here, again, and it still works very well. Maybe there is a slight shift towards rhythm to be noted, and a sparse guitar howling away, making this more Eno on the Apollo, especially when the guitar is almost – almost – in slide mode. This is a step away from the ambient abstract character of the predecessor and a step forward towards more song oriented ambient music, although this is still without vocals (obviously). Still with lots of reverb and delay, which is perhaps the downside of it all, as that's also part of the cliches that are part and parcel of this music, but we have come to accept that. A fine release altogether. (FdW)
REVIEW (Hypnagogue):
The title Radiating Perpetual Light is something of a misnomer. If there is light coming from the music on the new release from Circular, it is the suffused glow of a sliver of moon hidden behind thick clouds. Or, as musician Johannes Riedel says of it on his site, a dark and glowing sunset. Whichever murky light source we're talking about, Radiating Perpetual Light surges forth with plenty of rich bass as a landscape over which float shadow-shrouded pads and warm ambient structures. Beats, pulsing waves, and acoustic instruments seep Into the midst of all this to create a very engaging and, ultimately, fairly soothing groove. The ride growls up out of the grim rumbles of "Dissolved," and the worry here is that those quick to label might mistake it for dark ambient. If it was, it would be pretty workable dark ambient. Sliding into the next track, however, Riedel starts to slip in that pulsing rhythm and some higher tones to play against the bass, and now we're on the move, headed through several different states. Guitar finds its way into the mix. It's a nice touch, from the heat-shimmer glisten in "From A Concealed Perspective," which reminds me of Suso Saiz's work with Steve Roach as Suspended Memories, to the simple, post-rock strokes that carry through "Beneath the Luminous Sky." Riedel drops a guitar melody into the end of "All Colours of Space" after a few minutes spent in slow ambient washes paced off by a bass drum beat. As the disc moves along it picks up much from good chillout music, and the effect is heightened by Riedel's choice to keep to the low end of the scale. There's a graceful lacing of melancholy to the laid-back feel, the beat patient but irresistible. You'll particularly feel it on "Deep Time Illusions." Not a good track to be left along with when you've got a lot of things on your mind that you're trying to avoid thinking about, y'know? I also like the windy electronic hiss of "In A Distinctive State." Electronic burbles pop through the sound, and a string melody appears from out of the mist. This track becomes very human toward the end–listen and you should understand what I'm saying.
It's been easy to come back to Radiating Perpetual Light for the repeat listens I give discs I'm reviewing. It's soothing in its own way, as I said, but its grooves run deep and dig right into you. There's a lot of dimension at work, and the mix of electric and organic, slight though it is, shines through. Moving work from Circular.
REVIEW (Kulturterrorismus):
Letztere (zwei) CIRCULAR Releases wussten auf ganzer Linie zu überzeugen, woran "Radiating Perpetual Light", das neue Meisterwerk JOHANNES RIEDEL, nahtlos anknüpft, dessen mysteriöse Sphären aufgrund ihrer Ausgefeiltheit & Dichte (von der ersten Sekunde an) vollends übermannen.
Gleich der vorangegangenen CIRCULAR Arbeiten erscheint auch "Radiating Perpetual Light" über das renommierte Leipziger Label LOKI (FOUNDATION), das den nächsten organischen Höhenflug des JOHANNES RIEDEL als limitiertes Boxset (100 Exemplare) und als CD Edition im bekannten Ecopack veröffentlicht.
Auf "Radiating Perpetual Light" entführt CIRCULAR in mysteriöse Traumlandschaften, welche allesamt die Sinne vernebeln und für totale Entspannung mittels tiefem Kopfkino sorgen, das weit über die Spielzeit hinaus anhält – Wahnsinn!
Im Vordergrund aller CIRCULAR Alben steht defacto die Tonkunst, die JOHANNES RIEDEL konsequent weiterentwickelt, wodurch Intensität, Variabilität & Spannung kontinuierlich ansteigen und sich wie auf "Radiating Perpetual Light" geballt entladen. CIRCULAR verfügt über einen sehr hohen Wiedererkennungswert, das vor allem auf Mischung aus (Space) Ambient, Ritual & Berliner Schule zurückzuführen ist, der JOHANNES RIEDEL mit Effekthaschereien eine ganz eigene Note verleiht.
Egal ob einzelne Tracks oder als Soundtrack vermittelt "Radiating Perpetual Light" von CIRCULAR das Gefühl von Schwerelosigkeit & Freiheit, wofür sich vor allem die Gitarrenlinien verantwortlich zeigen, welche der Gesamtheit sehr viel organische Tiefe verleihen.
Wie bei (fast) allen LOKI Erscheinungen garantiert ANDREAS WAHNMANN mit seinem Mastering den perfekten Klang, der kompakt aber sehr detailliert anmutet.
Fazit:
Individuen, denen Intensität & Eigenständigkeit über alles geht, müssen "Radiating Perpetual Light" von CIRCULAR ihr Eigen nennen, das auf ganzer Länge einfängt, beeindruckt & entspannt – meine absolute Empfehlung! PS: Ein weiteres Highlight im LOKI Backkatalog, wo eigentlich nur Highlights existieren!