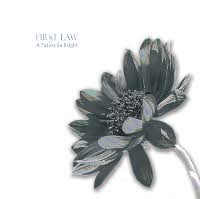 FIRST LAW
A Future So Bright CD    order @ deep-audio
A Future So Bright/Condemned To Repeat 2xCD    order @ deep-audio
LOKI 58
In its 20 years of existence -meanwhile the mastermind Andreas Wahnmann also has been active in several other musical projects- FIR§T LAW released six full length CDs up to now and developed a trademark in sound research that is truly genre defying. The album title and the cover art for this magical 7th album stand in strong contrast to the musical content and the album manifests its ironical and deliberately conflicting nature right from the start. Deep and throbbing rhythmic patterns, endless layers of guitars droning and manipulated vocals are opposed by disturbingly beautiful melodies. The complexity of the recordings just emphasizes its depressing nature and takes the listener on a journey through sound and emotion. A FUTURE SO BRIGHT is nothing less than an outstanding sound-scape that flows like a hallucinatory maelstrom and marks the darkest release of FIR§T LAW so far.
The first 135 copies are available with a second disc that features five additional songs. Condemned To Repeat comes as factory produced CD-R with extra jewelcase/cover. Both discs are presented in a nice box.
Tracklist
A FUTURE SO BRIGHT:
1. The Mother Of All Storms 2. Low Spirits Meme 3. To The Heart 4. Doubt
Time Distortions 5. Sewers 6. Whole 7. Confederacy Of Dunces 8. Fortune Frowns You
CONDEMNED TO REPEAT : 1. Condemned To Repeat Part I (Venus) 2. Condemned To Repeat Part II (Persuasion) 3.  Condemned To Repeat Part III (Darkness) 4. Condemned To Repeat Part IV (Club) 5. Condemned To Repeat Part V (Confide)
REVIEW (Brutal Resonance):
There are few moments here and there in my life, when I come across something that outstands from the regular experience of the everyday life. It can be some occasion, and it can be something that I hear or see. I am sure that each of us has that moment from time to time, when he can say "Hey, this is something very special, something to remember and try to experience again and again". I could wish that those moments can be more frequent, but their rarity makes them much more precious for sure.
Today I hold in my hands a new creation from the dominating legion of releases that come out of Loki Foundation label – a nicely packaged special addition of a new double cd from the well-known German based formation called First Law. It had been quite a long time that I've heard from them last time, but there are some albums that have to be cooked on a low fire to receive their special flavor. Their last one was released four years ago under the code name Terrorforming, and I thought that this record was already close enough to be an important milestone for the experimental music scene. I don't know exactly where Andreas Wahnmann gets his inspiration from, but what I hear on 'A Future So Bright' is simply breaks all the boundaries and produces the material that without any doubt will be inspiring by itself for many bands to come in the future.
It is simply impossible to define the exact genre that the album falls into, but I am convinced that there is no need in that. It is far beyond any specific definition, mixing the elements from industrial, dark ambient, tribal and even post rock genres, Andreas creates one solid piece of diverse music. The opening track "The Mother of All Storms" drags the listener into the very depth of psychedelic dreams, sawn with fibers of airy electronics, ritualistic drumming, guitar passages and mysterious background voice; – all the instrumentation works together in a perfect harmony. The same mysticism is transferred into the "Low Spirits Meme", full of complex layers of the same instruments powdered with industrial special effects. I begin to lose myself slowly between the images, granting the music a full control of my body and soul that throws me into the depth of "To The Heart" composition. Guitars are a very significant part of Andreas' craftsmanship and according to his official page they appear on every track, being veiled beneath electronic manipulations.
A totally massive track "Doubt" hits hard with its gloomy ritualistic feeling, erasing borders between spiritual and material worlds. Complex insanity continues with "Regulate" composition, drawing pictures of mechanical generation controlled by one super-brain, a massive hymn to human degradation led by ruthless machines. In "Sewers" Andreas invites me to dive into the very depth of underground world, where hateful cults grow from a fertile soil of strange species imagination. The atmosphere transforms to be more space oriented with the next track "Whole", carrying me away to the journey between the stars, and the same feeling is projected also through "Confederacy of Dunces" and to the last composition "Fortune Frowns on You".
With 'A Fortune So Bright' Andreas succeeds in capturing my imagination with a breathtaking masterpiece. The personal emotions sometimes are very abstract and don't fit into the format of this review, but I strongly suggest to everybody that seeks for an intelligent and sophisticated musical experience to grab this script wrapped in a piece of plastic with a beautifully designed booklet and to give it a huge hug. I am sure that what we witness here is a birth of a true state of art.
I feel myself lucky because my journey was not finished with the end of 'A Future So Bright'. The special and strictly limited edition comes with a second cd that contains five tracks that can extend the pleasure for additional forty minutes! Those compositions are different from what is presented on a master release and could exist as a separate release; and this fact makes the candy much sweeter.
The soul rests on less dark and dreamier tunes that balance on the edge of psychedelic rock, shoegaze, soft ambience and deep atmosphere. I can hear a lot of references inside the music, that don't steal the show though, but make it even more colorful, like Phallus Dei, Young Gods old material and production that comes out of the gates of Beta-Lactam Ring Records and sometimes even Pink Floyd. The vocal sessions are simply perfect, touched by a gentle electronic distortion. Every sound has its own place and meaning inside the whole picture creating a great complex of musical soundscape.
Meanwhile, I cannot stop playing this set for a week already and I keep discovering the different facets of this gem with each and every run. The year 2012 was worth living to receive this masterpiece during December. I hope that all of you were able to grab the copy of this release before it becomes a classics and rarity.
REVIEW (Nonpop):
ANDREAS WAHNMANN ist schon lange auf der Suche nach dem perfekten Ambient, wie einige andere Musiker auch, die wir hier auf NONPOP begleiten. Mit seinem Ein-Mann-Projekt FIR§T LAW hat er in rund 15 Jahren sechs Alben veröffentlicht, außerdem mastert er diverse Projekte auf LOKI FOUNDATION, wo er auch selbst veröffentlicht, sowie zum Beispiel manche Musik von ANTLERS MULM. Die längere Pause von vier Jahren nach seinem letzten Werk "Terrorforming" erklärt er unter anderem mit einem Hardware-Crash. Nun ist mit "A Future So Bright" eben das siebte Album erschienen, eingängig und intensiv.
Einige der Vorgänger waren deutlich mit einem Inhalt gelabelt, so ein eindeutiger Hinweis fehlt hier. Lediglich der 'Dunning-Kruger-Effekt' wird im Booklet erwähnt, eine Verzerrung der eigenen Wahrnehmung, die zur Selbstüberschätzung und gleichzeitig zur Abwertung des Könnens anderer führt. Dazu passen thematisch auch die Textpassagen, die abgedruckt sind. (Beispiel: "Today the numskulls rule the world. So many lampposts, so little time. The only hope, given enough rope, they will hang themselves.") Also vielleicht ein Statement zur geballten Inkompetenz der Menschheit, überspitzt formuliert.
Die neun Stücke sind lang, zwischen fünf und elf Minuten, und überwiegend instrumental gehalten. "The Mother Of All Storms" (01) startet mit diversem Rauschen, aus dem sich Klänge schälen, unter anderem ein rhythmisches, tieffrequentes Brummen. Schon ganz am Anfang fällt die satte, räumliche Atmosphäre auf, die gute Produktion. Ein leise tickernder Rhythmus, Trommeln und eine E-Gitarre von ganz unten aus der Tiefe – Schicht um Schicht fügen sich Elemente dazu, später noch langsame, dronige Pianoakkorde und flirrende, psychedelische Sounds. Die Atmosphäre erinnert mich ein wenig an die Ausstrahlung von BOHREN UND DER CLUB OF GORE. "Low Spirits Meme" (02) baut die einhüllende, forttragende Umgebung aus, bleibt weiter sehr rhythmisch, wobei sich das Gewicht mehr auf twangende Gitarrensounds verlagert. Ein flächiges, wohliges Bett mit leicht noisigem Ende. Der Übergang zu "To The Heart" (03) ist nahtlos, wie zwischen allen Stücken des Albums, vorherrschend sind synthetische, wabernde Keyboard-Drones sowie ein hallendes Marimbaphon mit künstlichen Chören im Hintergrund.
Die Anmutung ändert sich immer wieder, von spacig-melodiös über 70er-Jahre-Sounds, von verzerrten, alienhaften Vocals über geräuschhaftere Parts hin zu einer schönen, fast sakralen Melodie am Ende, mit scheppernder Percussion.
"A Future So Bright" ist nach wenigen Sekunden packend und intensiv, hält dieses Niveau bis zum Schluss. Die Basteleien muten nie allzu technisch an, klingen nicht nach Kunstgefrickel, sondern wohltuend handgemacht und haben Tiefe. Für Abwechslungen sorgen bei dieser Art von Musik – zwischen Ambient und Dark Ambient – unerwartete Klänge, mal psychedelisch-krautig, mal karibisch. Der übergreifende, oft langsame Rhythmus hält alles zusammen und verleiht dem Album eine rituelle Note. Einen thematischen Überbau braucht es (für mich jedenfalls) nicht. JARRE, KRAFTWERK, FENNEZ, BOHREN oder TANGERINE DREAM – Freunde solcher Musik sollten hier unbedingt reinhören.