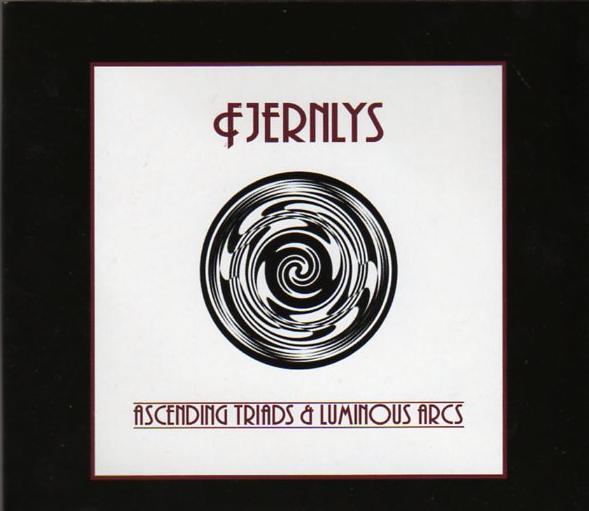 FJERNLYS
Ascending Triads And Luminous Arcs 2xCD   order @ deep-audio
LOKI 42
The songs layer cosmic and synthetic sounds and go on tracing according to the principle harmony in the music, their acoustic space seems very expansive, it is by no means over-crowded, voices creeping crosswise into sounds and effects to lunar spheres and solar places, exactly the correct nuance at refinement not only to remain in the ear but also simply very charming. Behind this project hides one of the INADE Masterminds, who recorded nine tracks supported from several musicians, those clearly possesses more songcharacter than the work which appeared from the Lightchannel so far, five remixes and interpretations of ANTLERS MULM, BAD SECTOR, FIR§T LAW and LOVESPELL on the second CD support the complex character of the whole release and expand the border to a new style of Ambient Songs. Ace – Clear – Pure. Released in May 2006.
Tracklist:
Ascending Triads & Luminous Arcs
1. Flash Crimson 2. Intermediate Nature 3. All Sun's Ceaseless Falling     4. Trunkene Flut  5. Lunar Sphere     6. Rising To A Challenge 7. Solar Loka     8. Nocturnal Wine     9. Enduring Surviving
Ascending Remixes & Luminous Interpretations
1. Intermediate Nature (Bad Sector Rmx) 2. Lunar Sphere (Alternative Version) 3. Nocturnal Wine (Antlers Mulm Rmx) 4. Trunkene Flut (Lovespell Rmx)
5. All Sun's Ceaseless Falling (Fir§t Law Rmx)
REVIEW (Aural Pressure):
Fjernlys features one of the members from Inade. That fact alone should sell you this without having to wade through countless pointless words from myself. In case you're blind (and here comes the classic Braille joke) I'll just feel that again… and missed it let me reiterate the point. Fjernlys features one of the members from Inade. You can't wear the 'music collectors' badge with any pride if you don't know who Inade are. I'll not insult your intelligence by going into any detail about this great group and instead suggest, if you are so ignorant, that you do a quick web search. I believe Google is good for such things. Type their name in then read and learn.
"Ascending Triads & Luminous Arcs" is a 2 x CD first release from Knut Enderlein of Inade. Which I think you might have guessed by now. This offshoot, I believe this would be the correct terminology for it, has that distinctive Inade sound prevalent throughout… but also inhibits a world of its own creation. Thus over the 9 tracks of the first CD we have the by now familiar dark electronics coupled to a more musically beat driven and melodic passages, with varied vocal support, that lays on the song structures in a semi magical way. Does the word 'enchanting' sound too gay or fey? Well it applies to some of these nine majestic compositions. There is still the undercurrent of a dark heart beating away though throughout which adds that sinister edge that causes the skin to crawl subconsciously. By utilising different vocalists, some spoken and sung, on the tracks gives the music subtle contrasts – as does the mixing of German and English languages. The overriding effect is of a cosmic dense landscape with the vocals as meteors blazing a trail across the stars. To release "Ascending Triads & Luminous Arcs" as one CD alone would have made this an outstanding aural experience. Those nice people at Loki though have seen fit to throw in a second CD of remixes and alternate versions of 5 of the tracks. The re-mixers are Bad Sector, Antlers Mum, Lovespell and First Law. I'll let you off not knowing who Antlers Mum and Lovespell are – I'm in the dark also – but Bad Sector and First Law need no introduction. Remixed pieces can sometimes be disposable, the polite version, and add nothing to the music. Thankfully the choice of re-mixers on the four tracks here add another dimension to the music bringing out and expanding it into different shapes and moving into ever more complex tangents that are symbiotic to the pieces.
The dreaded end bit. The part of the review where I have to justify all that has been written before… along with my recommendation. "Ascending Triads & Luminous Arcs" has the unmistakable sound of Inade branded all the way through it. You can hear it in the vocals and the phenomenal dark electronics. This is not a disadvantage. With Inade being such a quality act I would have been more surprised if Knut had veered too far away from that highly successful sound path. What he has done with this release is to embellish the creative atmospheres with a refinement beyond reproach making
"Ascending Triads & Luminous Arcs" is an essential purchase to ambient, and music lovers in general, everywhere.
REVIEW (Compulsion Online):
Ascending Triads and Luminous Arcs is the first album from the peculiarly titled Fjernlys, a project featuring one of the members of Inade, a lauded name in the field of dark ambient. Ascending Triads and Luminous Arcs opts for deep resonating tones that are harmonious and hypnotic with a greater emphasis on percussion, and the occasional foray into song based structures. The creeping synth-shudders and deathbeat percussion shrouding the heavyset accented vocals of 'All Sun's Ceaseless Falling' sinks into familiar dark ambient territory. As does 'Trunkene Flut' where German dialogue is set over a series of ambient soundwashes, bass pulses and tinkering hand percussion. The most alluring moments come in the form of 'Indeterminate Nature' where bass-pulses and percussion map out a skeletal melody over rolling atmo-synths recalling some of Coil's later work along the way. 'Nocturnal Wine' is another strong entry sounding like the kind of thing Sigur Ros would do if they were German with a background in dark ambient. Tones, pulses and xylophone coalesce before building into a glorious track of blurred electronics with the xylophone imparting a beautiful melody. The most song based track is 'Rising To A Challenge' with its morose vocals hovering over chugging atmo-synths in a calm, downbeat manner.
Ascending Triads and Luminous Arcs is a surprisingly worthwhile release where the subtle and contemplative tracks arising from drifting, resonating tones outweigh the atypical dark ambient moments. The accompanying CD of remixes and interpretations from Bad Sector, Antlers Mulm, First Law and Lovespell somewhat muddies the waters by dragging the tracks back into a dark ambient / electronic mould. The original disc is a keeper though, and I could find myself returning to a number of the tracks.
REVIEW (Surreal Immersion):
Fjernlys is a fairly new project that released their first album in 2006, 'Ascending Triads & Luminous Arcs' on Loki Foundation. One of the people behind the project is now totally new, as it is the joint project of Knut Enderlein from Inade and Johannes Riedel from Circular. There is also a third member involved by the name simply of CKS, who delivers her vocals and does song arrangements. I've never heard of the music of Fjernlys before, though I know their existence. Since the people involved, expectation run high of course.
The music of Fjernlys has more in common with the mysteries of the Earth, and sometimes in relation to her place in the cosmos, then deep space only, like Inade and Circular are all about and goes more into a direction like Herbst9 does, albeit less dark. The opening track 'Formless & Perfect' starts with beautiful melodies and an overall soothing atmosphere. 'Silence' is a little bit darker and has a nice mystical energy surrounding it. The interesting and mysterious vocals of CKS turn up, who delivers the foreboding spoken words. 'Whisper In White' also makes us of vocals, this time of Mr. Enderlein. The vocals have a kind of darkwave sound to it, while the sound of the music is very mystical and fits perfectly together. 'A Letter To…' starts with great little melodies and choir synth/sample sounds. The song as a whole has a very good meditative vibe to it. 'Beyond The North' is a very effective and hypnotizing soundscape with good use of the vocals of Enderlein, and reminds me a little bit of label-mate Fir§t Law. 'Constellation' is a beautiful relaxing and melodic song with the hypnotising vocals of CKS again. 'Involution' starts with very ominous choirs and eventually transforms into a cinematic ritual/tribal song. 'Star's Orbit' takes us on a trip to the stars. Sweet melodies and strings create a very soothing and mystical atmosphere with again the effective vocals of Enderlein. 'Elemental Movement' takes us back to Earth again to delve into our own world of mystical elements. Our voyage ends with 'Zodiac', which is more of an experimental soundscape with lots of different sounds. As the song progresses, the song gets denser with piano keys and layers of sounds to create an overwhelming hypnotising atmosphere. We enter at the core of our being and see the true nature of it all. We don't know anything, yet we gain everything!
'Beyond The Undulant Quiescence' is again a brilliant release from the Loki Foundation label. Of course with the people involved in this project it's now real big surprise. This album is a pure aural voyage of the highest order. It's less dark then Inade can be. The use of vocals of CKS and Enderlein work very well and have sometimes a kind of Fir§t Law atmosphere. While Fjernlys certainly plays with cosmic themes, like they do with Inade and Circular, they also very much have an Earthly ambience to it, like the work of Herbst9. While being less tribal and dark than that project, with Fjernlys we experience the cosmos from the Earth, instead of from deep space itself. Highly recommended! -FvdM-
REVIEW (Funprox):
Fjernlys is a new project of Knut Enderlein, known for his work with Ex.Order and Inade. The first release as Fjernlys is directly a double cd, of which the second disc contains remixes by Bad Sector, First Law and others. You could say that Ascending Triads & Luminous Arcs is a typical Loki Foundation release: an otherworldy atmosphere, subtle ambient electronica, ritual rhythms…
Compared to for instance Inade, Fjernlys sounds quite a bit lighter and more melodic, though it still has recognizable elements. What hasn't changed is the complex layering of all the synthetic sounds, beats and voices. The pace is quite laidback though, with an organic feel to it. At times vocals form a prominent element, for instance on 'Solar Loka' or 'Enduring surviving'. I'm reminded now and then of First Law or later Predominance works. Because of its tranquil, subtle nature, the music is not directly overwhelming, but slowly finds a way to your subconscious.
Ascending Triads & Luminous Arcs is a pleasant listening experience, I've quite often played it as relaxing background music lately. It may have not impressed me as much as various other (darker) releases on Loki, but it's a quality piece of atmospheric music. The bonus cd with five remixes and interpretations is a nice addition, especially the dreamy wavy versions by Antlers Mulm and Lovespell are to my liking.