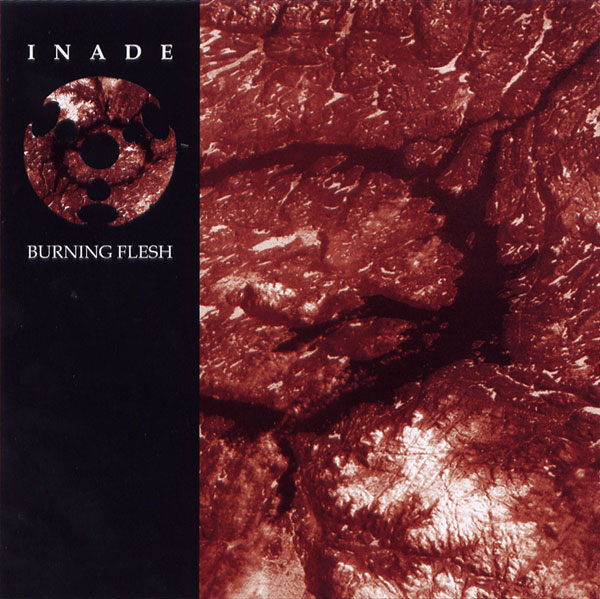 INADE
Burning Flesh
LOKI 24
Due to constant demand here the re-release of the legendary "Burning Flesh" material from 1993 with all the bonus material that appeared already on the limited CD-Version in 2000, now in a new sympathically remastered version done at Secretlab in June 2007. The soundscape is a pitch-black ambience in which peculiar sounds scramble about, ignites a rising wave of gloom, driven by the slow clatter of tribal hooves upon unearthly terrain.
Tracklist:
1. Overture Bells 2. Shattered Bones 3. The Coming Of The Black Legions 4. Final Prayer 5. Outcry     6. Storm Of Fire 7. Burning Flesh 8. Through The Gates Of Death 9. Genius Loci Pt. I  10. Genius Loci Pt. II    11. Genius Loci Pt. III 12. Genius Loci Pt. IV  13. Tat Twam Asi
REVIEW (Nezzwerk):
by far inade seems to be one of the best bands creating crushing dark ambient. this release (limited to 500 copies) is a collection of rarities that include tracks from 1993 "burning flesh" tape, "genius loci pt. I-IV" (1994-1998) and track from 1997 "book ov shadowz" sampler.
inade's music is a remarkable mix of tribal elements, medieval landscapes and dark noisy textures. pulsating waves of dense sound are seeping through the speakers, astonishing in their monumental proportions. on almost every track there's always some subtle little element that creates an interesting contrast with oppressive dark background.
it is amazing to hear the range of sounds that the band creates mixing together eerie creepy noises with monumental elements, creating the depth that other ambient artists often seem to miss ending up with a "flat" repetitive sound.
among the pieces from the "burning flesh" tape the once that stand out for me include "shattered bones" where pulsing heavy background textures are contrasted by clean synth, creating a unique image of cold medieval sunrise where pure synthline is calling to the skies and leading the listener through the dark ruined hallways. "the coming of black legions" starts out with heavy ritual beat and later distorted mechanized breathing slowly enters the track; militant marching rhythm is layered on top of eerie sound waves. corroded echoing sounds begin "storm of fire" later joined by piercing outbursts of static and heavy menacing beats. "burning flesh" reminded me of some ex. order material; waves of throbbing noise and samples with clean, pure elements breaking through.
next section of the cd ("genius loci" tracks) seems to take even further the themes of dark years of early christianity and tribal shamanism. all tracks are filled with disembodied voices, distant screams and bizarre tribal elements and appear to be more structured and fluid in their nature. pure and cold ritualistic atmosphere is even more apparent on these four tracks.
"tat twam asi" ends the cd. it incorporates the best elements of the band's sound – cold and noisy sweeping soundwaves, thick brooding basslines and tribal percussion all mixed together with style and precision to create timeless atmosphere.
with recent building hype about upcoming "lord of the rings" trilogy, I could not help thinking how perfect of a soundtrack this album could be. the richness and quality of this excellent cd sets the standard for the whole genre and should not be missed by anyone even remotely interested in this kind of music.