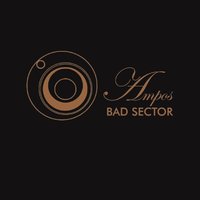 BAD SECTOR
Ampos CD         order @ deep-audio
LOKI/PAS 17
The first album from 1995, now released as CD for the third time. With AMPOS Massimo Magrini has set a standard in deeply emotional dark ambient noise and many of his following releases went in that vein of evocative intensity and monolithic sound. Strong and throbbing layers of cracked sound waves, decay and harmonize throughout the album, creating emotional and archaic soundscapes. This is a timeless masterpiece and a reference of it´s genre. The re-edition comes in beautiful cardboard case with bronze-embossed printing.
Tracklist: 1. Ampos 2. Drulco 3. Moblo 4. Trozou 5. Neku 6. Ahibbe 7. Takron
8. Ze 9. Rsaa 10. Negi 11. (Some Gods) 12. Oxis 13. Ader
REVIEW (Heathen Harvest):
Loki Foundation, the German label known for making waves with their consistently impressive and ground-breaking releases in the realm of deep-audio, dark ambient, and industrial, is still going as strong as ever — and this, their second edition of Bad Sector's debut Ampos, is all the proof needed of that lineage of continuous quality.  Originally released in 1995 on the Staalplaat sublabel God Factory, Ampos originally made waves in the ambient underground through evasive yet emotive, raw movements and has become a classic of the scene today.  It would go on to be re-released in its first edition for Power & Steel in 2002 with two bonus tracks (seen here in "Oxis" and "Ader") before being made available by the project itself in 2004 in a CD-R version and again digitally via Massimo Magrini's website in 2010.  Finally physically available again, Ampos has been made available in a black quarter-fold package with a metallic-bronze embossing.  A brilliant and deserving package for an album that has influenced so many, Ampos has perhaps now found its final form.
Released in 1995, this album was nearly the beginning of Magrini's work, second only to 1994′s "Ze".  At that time, the music that he was creating was ultimately utilized as an escape into low-tech electronics from his day job working with expensive, custom equipment via his collaborations with the Computer Music Lab of the CNUCE Institute of the Italian National Council of Research and various other unspecified private companies. That said, it's hard to believe that Ampos was released in its original form now nearly two decades ago, having been conceived on admittedly inferior equipment.  Whether or not dark electronics were starting to come around in sharper and deeper quality on cheaper equipment in those years is up for debate, but with any way you perceive it, Ampos stands as a testament not only to Magrini's sheer ingenuity through composition and the creation of personal instruments to achieve a more organic sound, but also his sheer willful motivation to create emotionally charged electronic compositions.  Emotion that can be easily seen through the project's name — Bad Sector — which is a damaged portion of a computer's disk.  There is an obvious comparison to be made here to the human mind — trauma to the spirit, mental scarring, even mental disorders can be seen in context with the powerful melancholic, and sometimes strangely aggressive, music of Bad Sector.
There has always been a post-punk kind of depressive atmosphere surrounding Magrini's music, and Ampos is the foundation of that atmosphere.  Deeply penetrating, distorted drones underlie every track on this album, where the opening title track features pulsating melodic tones on a minimal level that are highlighted by pristine bell textures in the upper end of the mix, as well as phasing tones that are strangely familiar due to their usage in projects like VNV Nation.  Though there are vocals present, they are reminiscent of the style more commonly found in power electronics — inaudible, though lightly yelled yet still strongly proclaimed with confidence — thus relying on tone and atmospheric context to get their point across.  Fitting for the minimal, expressive, yet veiled intentions through music that make up the album. Vocals also appear in a clearer form though they are either distorted to appear cold and machine-like, or are emotionless.  Comparisons that can be made to modern day ambient artists make Ampos all that much more impressive as well.  It was only recently that Shane Morris and Mystified came together to collaborate on their Epoch series, a trilogy that represents an aural excursion into the depths of prehistory and evolution.  Impressive as it was today, specific tracks from Ampos nearly mirror the atmosphere found there, namely "Neku" with its organic, nearly life-like chatter that is thick with the humid environment of rainforests.  Other tracks are simply haunting, either displaying traits that could, in some songs, be envisioned alongside the dancing spheres of the cosmos, and in others within the deepest caverns of our own life-driven planet.
In the end, I'm reminded that Ampos is just as brilliant today as it was in its infancy 17 years ago.  Bad Sector has since evolved and Magrini has stated that, while still important, he is looking into new horizons for his musical output.  What the future holds for Bad Sector in that regard remains hidden to us for the time being though it does appear that it will go on as it always has, but if nothing else, this beautiful new edition of the album reminds us of the power that the project has held in dark electronic music over the years and the respect that it demands because of it.
REVIEW (Medienkonverter):
Mit "Ampos" wird das erste Bad-Sektor-Album nun noch einmal neu aufgelegt. Das Erstlingswerk des Dark-Ambient- und Experimental-Projekts von Massimo Magrini erfährt damit die dritte Wiederauferstehung (oder die vierte, wenn man das MP3-Release mit dazu zählt). Bereits 2002 hatte sich Power & Steel, das Sublabel der Loki Foundation, der Platte angenommen und sie um zwei Bonustracks ergänzt. Diese Version ist nun erneut zu haben, jedoch mit einem neuen, schwarzen Cover mit geprägter Bronzeschrift.
Die mehrfache Reinkarnation dieses Albums zeigt deutlich, dass es sich bei dieser Platte um etwas Außergewöhnliches handeln muss. Für Massimo Magrini ist es das allemal, schließlich war das ursprünglich 1995 erschienene Album sein erstes als Bad Sektor, nachdem er sich Ende der 80er noch im Post Punk ausgetobt hatte. Aber auch jeder Ambient-Liebhaber sollte dieses Album zumindest kennen, denn Bad Sector hatte sich bereits vor knapp 20 Jahren mit seinem Debüt als Projekt für beeindruckende Ambient-Sounds erwiesen. "Ampos" lebt von dicht aufeinander gedrängten Samples, Drones und elektronischen Sounds, die ein wenig das sperrige Scharren und Kratzen des Noise mitbringen.
Obwohl es also ein wenig holpert und lärmt, besitzt "Ampos" eine tief sitzende Wärme, die sofort ausströmt, sobald das Album erklingt. Vielleicht es ein Ausdruck für Sehnsucht, vielleicht einer für Melancholie, in jedem Fall verleiht Bad Sector den Songs neben den experimentellen Sounds auch einen mal mehr, mal weniger ausgeprägten idyllischen Charakter. Die Melodien bewegen sich ganz langsam, die Synthies krächzen wie lärmende E-Gitarren und im Hintergrund klimpert und piepst es wie in einem alten Science-Fiction-Film. Und das möglichst alles gleichzeitig. Der entstehende Gesamteindruck dieser Überlagerungen hat aber weniger etwas Erschlagendes denn etwas Faszinierendes. "Ampos" rauscht wie ein warmes Sommergewitter dahin, das schon mal ordentlich Grollen und Lärmen kann, aber nie zu bedrohlich wird.