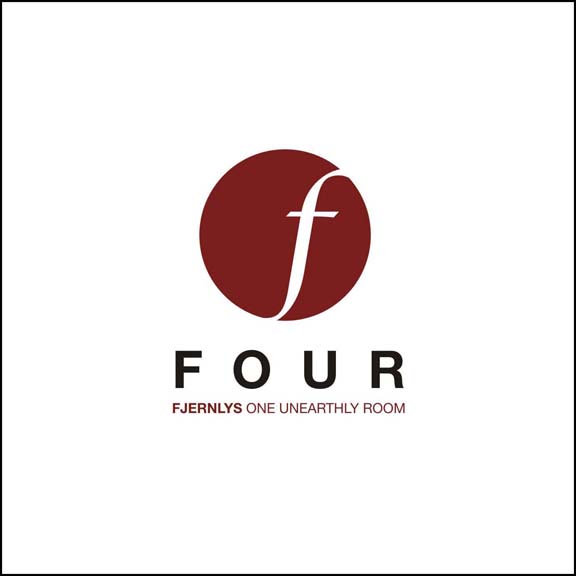 FJERNLYS
FOUR – One Unearthly Room 2xCD / 2xCD + T-Shirt BOXSET  
order BOX      order 2xCD     buy at Bandcamp

Five years after the last full-time album of Fjernlys, the Leipzig based outfit returns with new recordings. Fjernlys' attention to detail is typically exquisite here: the looped bowing of a cello provides a droning bassline beneath pitch-bent chimes and melodic pads. Clear homogenic sounds creeping deep organic rhythms with lovely effects have been incorporated in a poetic ambiance guided by brilliant vocals. A collaboration with Peter Bjärgö on vocals for 'The Fervid Flood'  intoning a new and inspiring way of recordings and production. FOUR appears to have abandoned tracks that aim to move bodies in favour of ambient songs that aim to move hearts. Atmospheric and sensitive Ambientsongs with accented percussion elements, vibraphone sounds and viola supplements to set the electronic soundscapes into wonderfully concentrated and organic pieces. Swimming beneath Fjernlys' ambient arrangements is a primordial cosmos of sonics: the falling of rain outside a window, the tumble of unknown random oscillations, a whirl of ebow guitars. The hustle and bustle of these sounds ground the grandiose orchestration on the record and give it an abstract sense of the transcendental space. On the second CD are remixes of 4 tracks from the album, revisited by Kammarheit, Peter Bjärgo, S.E.T.I. and Herbst9. Every single interpretation these artists made completes the puzzle of this release to its entire form of One Unearthly Room.
LOKI 63, Comes in 8 panel Digifile, Special Edition Boxset incl. T-Shirt
CD ONE
Unearthly & Floating
Revelation
The Rays
The Adventurous Heart
The Fervid Flood
Reshape A New World
The Hour
A New Plane
CD TWO
The Hour (Kammarheit RMX)
The Fervid Flood (S.E.T.I.'s Earthly RMX)
The Adventurous Heart (Herbst9 RMX)
The Rays (Peter Bjärgö RMX)
The Fervid Flood (S.E.T.I.'s Unearthly RMX)